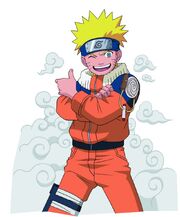 "He's always trying his best to get people to acknowledge him...For that dream, he'd risk his life at anytime...He's probably sick and tired of crying, He knows what it really means to be strong." -Kakashi about Naruto
Naruto, known by most to be the knuckle-head Ninja is one of few characters who can take just about anyone off guard. Maybe its his cheerful nature despite all the hardships he has been through that makes him who he is or the fact he wont give up no matter what the cost to him. Whatever it is Naruto has he is and will be forever known as one of those people you just cant bring yourself to hate.
Ad blocker interference detected!
Wikia is a free-to-use site that makes money from advertising. We have a modified experience for viewers using ad blockers

Wikia is not accessible if you've made further modifications. Remove the custom ad blocker rule(s) and the page will load as expected.