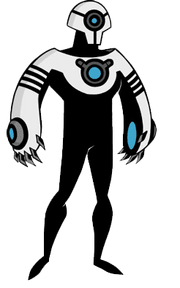 Walter Shreeve --- Shriek
Edit
Walter Shreeve is initially a sound engineer hoping to improve society with his inventions. He is led down a decidedly darker path by Derek Powers, who wants a return on his investment in Shreeve's research. He thus dubs him "Shriek", based on his special suit which allows him to generate destructive sound waves and manipulate sound in a wide variety of ways. During a fight with Batman, his suit is damaged, causing it to pick up sounds at such a high volume that Shreeve is rendered permanently deaf. Though he develops a special headset to hear normally, the incident drives him insane and vengeful against Batman.
Ad blocker interference detected!
Wikia is a free-to-use site that makes money from advertising. We have a modified experience for viewers using ad blockers

Wikia is not accessible if you've made further modifications. Remove the custom ad blocker rule(s) and the page will load as expected.